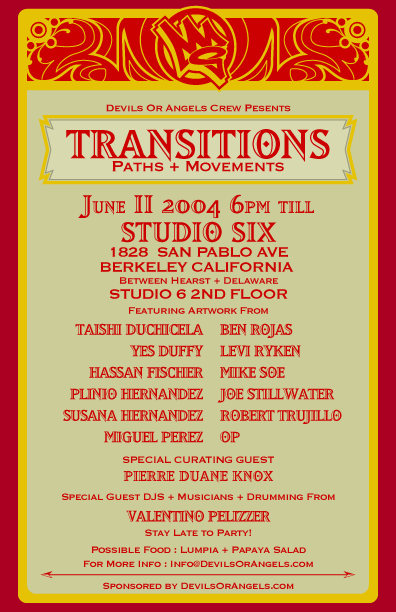 Mot and friends hold an art showing at Mike Soe's loft. Coincidentally, it's the same loft above the Albatross where my sister lived 20 years ago!

Mot created the above flyer for the event.

The boys displayed their art...
...throughout the 'studio'...
...and in the hallway.
Robert is DJ at the moment.
Mot and Plinio's photographs.
I don't know which of them did these. They are all very talented!
Plinio and some guests.
There was some jewelry, too.
Brett and Plinio.
My son, Mot, and my sister, Boobie.
Belia (back), Yes and Mot.

Here are some of Mot's Polaroid's.

Robert

Me, Eugenio (Boobie's husband) and Boobie

Boobie and friends

Antdog and friend (Anthony Blackman, Julie's son)

My kids, Lina and Mot

Yes

Brett and Mot
Here's another flyer Mot created for an upcoming show in New York.